DIVING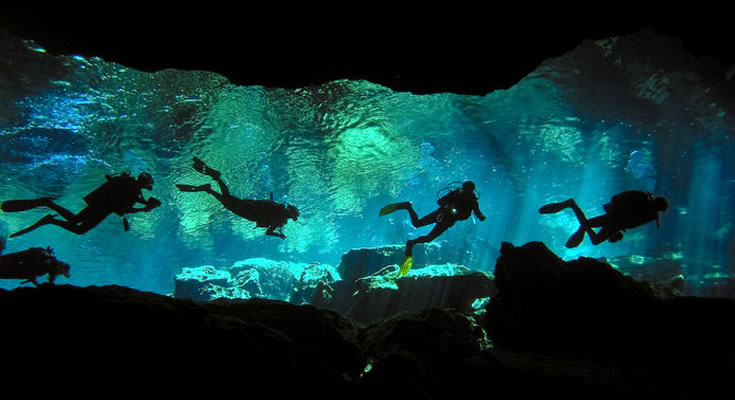 Riviera Maya's reefs belong to the second largest barrier reef in the world, as well the largest cavern / cave sistem in the planet. They are lots of fun for seasonal divers, student divers, cavern divers, cave divers and underwater photographers , thanks to short boat rides to the reefs and good visibility. Playa del Carmen is recognized by the constant population of sea turtles, nurse sharks and eventual encounters with ,whale sharks, eagle rays and dolphins. But be assured to see incredible amounts of hard coral, lots of marine invertebrates and tropical fish like barracudas, porkfish, grunts, squirrelfish, snappers, blue chromis, sergeants, groupers, parrots, blue tangs, wrasses and many more, not in huge schools but everywhere.
Ocean Diving
Daily dives to shallow or deep dives
Bull Shark Diving
This is the extreme scuba diving experience for certified divers who want to experience the most thrilling dive in the world.
Wreck Diving
Shipwreck diving is an underwater adventure! Wrecks have an exciting and sometimes tragic history waiting to be discovered; they also challenge you to put your diving skills into practice.
Cozumel Diving
Here divers can drift along the coral covered walls in the incomparable blue sea of our famous Cozumel Marine Park, and explore the amazing sites like, Palancar Caves and Palancar Garden with its excellent tunnels and magnificent formations.
Cave and Cavern Diving
The Yucatan peninsula is probably the best well known place in the world for cave and cavern diving. These caves are called Cenotes which is the Spanish form of the Maya word d'zonot. If you are visiting us, this is your opportunity to experience a completely different and unique way of exploration. These water filled caves attract divers from all over the world as they present a technical diving challenge.
The Cenotes (cavern) are the access to a huge net of underground freshwater rivers; Mother Nature veins keep ancient secrets and provide testimony of past cultures and extinct animals.
Dive Instructions (All levels)
If you ever dreamt to be an astronaut, diving is very close. Discover a new world where gravity, wildlife, colors and sounds are experienced differently! Scuba diving today is easier than ever, if you are at least 8 years old you can start right away to learn how. Our dive shop staff has over 20 years of experience sharing with people their first breath underwater and their first journey through this wonderful world beneath the surface. We have special equipment for kids and our experienced staff will show you the easiest and safest way to explore the habitat of corals, sea turtles, colorful beautiful fish and big predator fishes, rays and mantarays, and many more creatures inhabiting the reefs.