PALENQUE / CHIAPAS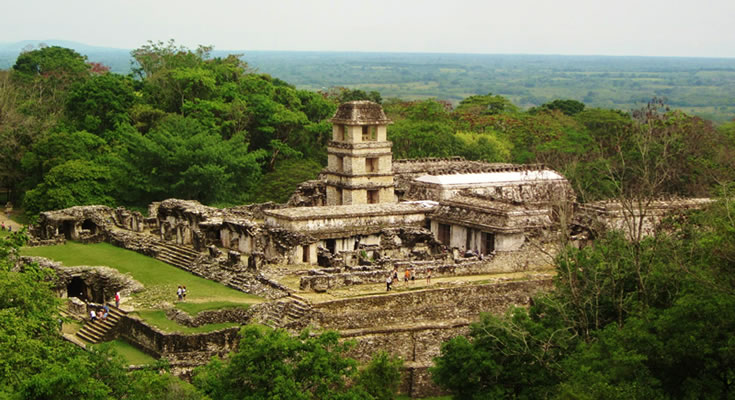 Was a Mayan city state in southern Mexico that flourished in the 7th century. The Palenque ruins date back to 226 BC to its fall around 1123 AD. After its decline, it was absorbed into the jungle, which is made up of cedar, mahogany, and sapodilla trees, but has been excavated and restored and is now a famous archaeological site attracting thousands of visitors. It is located near the Usumacinta River in the Mexican state of Chiapas.
Palenque contains some of the finest architecture, sculpture, roof comb and bas-relief carvings that the Mayas produced. Much of the history of Palenque has been reconstructed from reading the hieroglyphic inscriptions on the many monuments. The most famous ruler of Palenque was Pacal the Great whose tomb has been found and excavated in the Temple of the Inscriptions.
By 2005, the discovered area covered up to 2.5 km² (1 sq mi), but it is estimated that less than 10% of the total area of the city is explored, leaving more than a thousand structures still covered by jungle.
Without a doubt, the best time to visit Chiapas is during the dry season--November to May--when the skies are clear and the sun always seems to shine. You'll also avoid the rain, which can be quite heavy in the summer months, especially June and September
This circuit will only be operated on request, we will plan a custom itinerary tailored exactly to your time, budget and preferences.
This circuit takes minimum 2 nights and three days.
Depending on the number of days  we can visit:
Palenque
Yaxchilán
Agua Azul
Misol Ha waterfalls
Bonampak
San Cristobal de las Casas
Canion del Sumidero
Bacalar lagoon