SIAN KAAN JEEP SAFARI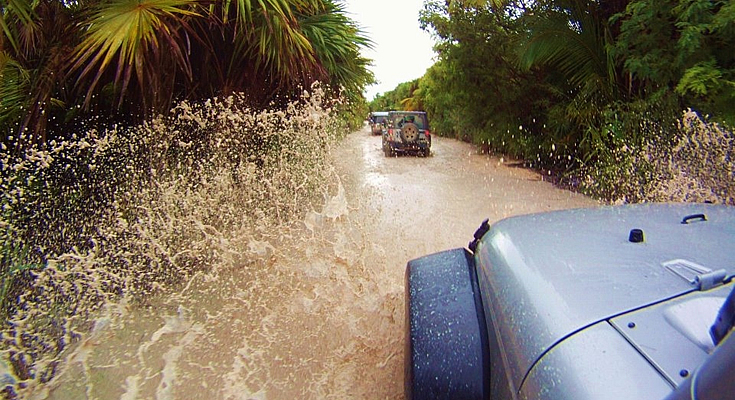 PRICE
Adults $140 usd
a small fee of $3 usd must be paid upon entrance of the park
In the language of the Mayan people who once inhabited this region, Sian Ka'an means 'Origin of the Sky'. Located on the east coast of the Yucatán peninsula, this biosphere reserve contains tropical forests, mangroves and marshes, as well as a large marine section intersected by a barrier reef. It provides a habitat for a remarkably rich flora and a fauna comprising more than 300 species of birds, as well as a large number of the region's characteristic terrestrial vertebrates, which cohabit in the diverse environment formed by its complex hydrological system.
SIAN KAAN JEEP SAFARI INCLUDES
Self drive Wrangler Jeeps
Professional bilingual guide
3:00 Hrs Guided boat tour
snorkel equipment, life jackets
lunch
Snacks
Non-alcoholic beverages
Insurance and taxes
RECOMMENDATIONS
Wear light clothing, Wear Sunglasses, Wear a hat or cap, Wear sun protection.
Pickup schedule is sent via email after your reservation
DETAILED INFORMATION
This tour is an adventure and the Jeep trip on the dirt road will be tiring.
Wear your seat belt and obey the Jeep guide.
The distribution by Jeep:
5-door Jeep> 5 people
4 Doors Jeep> 4 people
In the aquatic part the guide will be the Captain of the boat that will take you to visit the reserve.
Not allowed for pregnant ladies.
Transportation to Tulum, where the Jeeps are to be driven, is done by 12-seat vans.
The pickup time depends on the hotel but the last one is Bahia Princípe at 7:40.
The pickup is done with a van that will take you to Tulum where you will drive the Jeeps Wrangler yourselves.
They will be divided into groups of four for each Jeep, except for being a family or group of 5 intending to be together.
The trip of 50 km from Tulum to Punta Allen (Sian Kaan Reserve) takes approximately 2 hours.
The Jeeps are closed and air conditioned.
Upon arrival, a USD 6 fee will be charged for the reservation protection.
For the approximately 3-hour boat ride we will use 6-passenger boats. We will go search for several marine animals dolphins, turtles, manatees, etc.
We will visit the island of the birds and wander through the mazes of mangroves.
Then it's time to get in the water and visit a coral reef with dozens of colorful fish species.
Afterwards we will visit the "natural pool" which is a stripe of sand in the middle of the sea with the most crystalline water you can imagine.
As the hunger begins to increase, we leave for the beach from where we left and we will have a buffet served in the shade of the coconut trees. During certain seasons you will be able to enjoy an incredible lobster, caught and cooked in the moment for you.
After lunch we get back to the Jeeps and return trip to the hotels.
Visit in Spanish.
Every day
Tours on Tuesdays, Thursdays and Saturdays