WHALE SHARK SAFARI
FROM MAY 15th TO SEPTEMBER 15th
PRICE
Adults 155 usd + 5 usd tax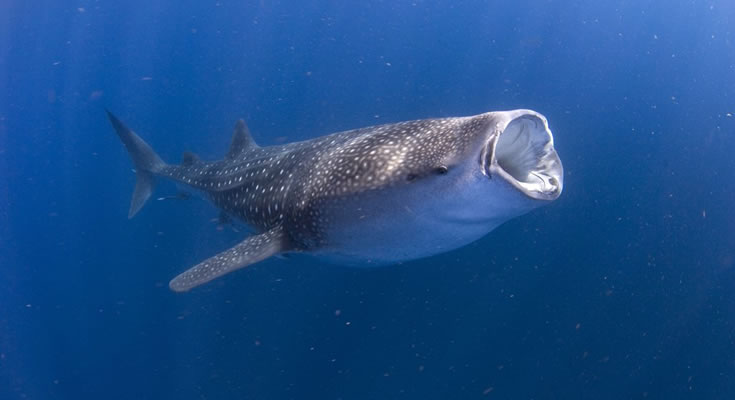 The whale shark, Rhincodon typus, is a slow-moving filter feeding shark and the largest extant fish species. The largest confirmed individual had a length of 12.65 meters (41.50 ft) and a weight of more than 21.5 metric tons (47,000 lb), and there are unconfirmed reports of considerably larger whale sharks. Claims of individuals over 14 meters (46 ft) long and weighing at least 30 metric tons (66,000 lb) are not uncommon. The whale shark holds many records for sheer size in the animal kingdom, most notably being by far the largest living non-mammalian vertebrate, rivaling many of the largest dinosaurs in weight. The Whale Shark conveys peace and tranquillity, and it is completely harmless to humans, it is actually a very docile and curious creature.  The Whale Shark swims very slowly on the surface which makes it easy and relaxing to swim with them. Swimming alongside this gentle giant of the sea is an experience to remember.
WHALE SHARK SAFARI INCLUDES
Transportation from your hotel and back, in luxury A/C van.
Light breakfast.
Professional bilingual guide
Water and soft drinks throughout the day.
Beer after 12:30.
Visit to the Isla Mujeres North Beach
Fish and shrimp ceviche.
Guacamole.
Sandwiches available on the boat when ever you want.
Complete snorkeling equipment and life jacket.
Insurance and taxes
RECOMMENDATIONS
Water proof Camera or video camera
Sunglasses
Towel
Swimsuit
Wet suit if you have one



DETAILED ITINERARY

This excursion is only from 15th May to 15th September. The collection will be around 6 am.
For this tour you can choose the day you want.
Departure from the hotel with a trip to Cancun, (about an hour, depending on the hotel).
Upon arrival in Cancun have a light snack and embark on 12-seat lightweight Yacht type boats.
The time of travel to the Sharks area is about one hour.
Upon arrival to the Sharks the guide enters the water with two people at a time for a swim of about 15 minutes. This process is repeated until all people are satisfied.
After the Sharks, we moved to a reef near Isla Mujeres for an hour of snorkeling, followed by a visit to the north beach for lunch. This stop is about an hour and a half of free time with lunch of shrimp ceviche served on the boat.
Drinks included throughout the day.
After finishing the visit to the north beach, we will have the return to Cancun and the respective hotels.
All passengers must wear a lifejacket or neoprene suit.
All equipment is supplied, masks, snorkel fins and snorkel lifejackets, the neoprene suit has a cost.
They can use any kind of cameras to film and photograph during their stay in the water.
You can not touch or grab the Sharks.
Sightings are guaranteed (about 98% chance).
In very rare case of no sighting will have the opportunity to go another day completely free.
Schedule is sent via email after your reservation