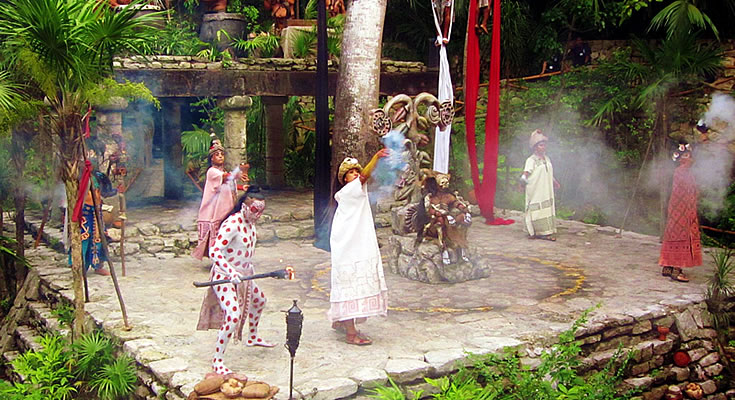 PRICE
Adults $150 usd
Kids under 39 inches or 1 meter FREE
Kids under 4 ½ feet tall or 1.40 meters $76 usd
Xcaret is a theme park located in Riviera Maya, by the Caribbean Sea shore. Enjoy a show at night, with more than 300 actors on stage, resulting in a musical journey through the history of Mexico since pre-Hispanic times to the present day, with all the colorful costumes, folklore and dancing. The recreation of a pre-Hispanic ball game, a charro celebration, a Mexican cemetery, a coral reef aquarium, a butterfly pavilion moreover underground rivers, beaches and natural pools. A place where you can swim with dolphins and have fun with countless attractions and activities that will make you live magical experiences. Come to Xcaret, and enjoy discovering the natural and cultural wealth of Mexico.
XCARET PLUS TOUR INCLUDES
Transportation from your hotel and back, in luxury A/C van.
Entrance fee to XCARET
More than 40 activities
1 Buffet lunch that includes fresh fruit juices and coffee
Xcaret at Night and the Xcaret Mexico Espectacular celebration.
snorkel equipment, life jackets, towels, and lockers.
Insurance and taxes
RECOMMENDATIONS
Take your Camera, Wear light clothing, Wear Sunglasses, Wear a hat or cap, Wear sun protection.
Must take 20 usd for towel and snorkel gear deposit
DETAILED ITINERARY
The pick-up time depends on the hotel.
The driver takes you inside and after that you are left with two free activities, plus buffet lunch at 5 different restaurants, snorkel equipment, locker and nightly show.
At the end of the night the driver will be waiting for you in the previously agreed place.
The list of what they consider free activities:
~ Beaches, natural pools and cove
~ Sea Turtles
~ Coral Reef Aquarium
~ Island of the Jaguars
~ Butterfly garden
~ Maya Village
~ Flyers of Papantla
~ Flamingos
~ Underground rivers
~ Paradise River Road, "raft" ride
~ Farm for breeding local wildlife
~ Panoramic swivel tower
~ Farm of edible mushrooms
~ Bromeliad and orchid greenhouse
~ Rainforest trail
~ Archaeological areas
~ Open amphitheater
~ Island of the spider monkeys
~ Territory of the tapir
~ Deer retreat
~ Caves
~ Wine cellar
~ Prehispanic Ball Game ~ Aquatic Activity Center
~ Lagoon of Rays, manatis and sharks
~ Bat cave
~ Chapel of St. Francis of Assisi
~ Mexican Cemetery
~ House of Murmurs
~ Museum of Folk Art
More recommendations:
Bring a change of clothes.
- Baby carriage can be rented for the amount of 15 usd and a deposit of 20 usd
- Optional dinner during the night show is not included and is priced at 59 usd
(The show ends at 21:00 and gives time to go to the hotel for dinner)
- NOT TO BE MISSED »» »the Mayan village show (next to the cemetery) at 5:00 p.m. (spring summer time)
Every day
Pickup schedule is sent via email after your reservation