The  Mayan Riviera is a 120 km touristic corridor , located on the North-East coast of the Yucatan Peninsula, in the state of Quintana Roo, Mexico. Best known as the Mexican Caribbean.
The  Mayan Riviera is famous for the large all-inclusive resorts and small boutique hotels as well as many fine restaurants near the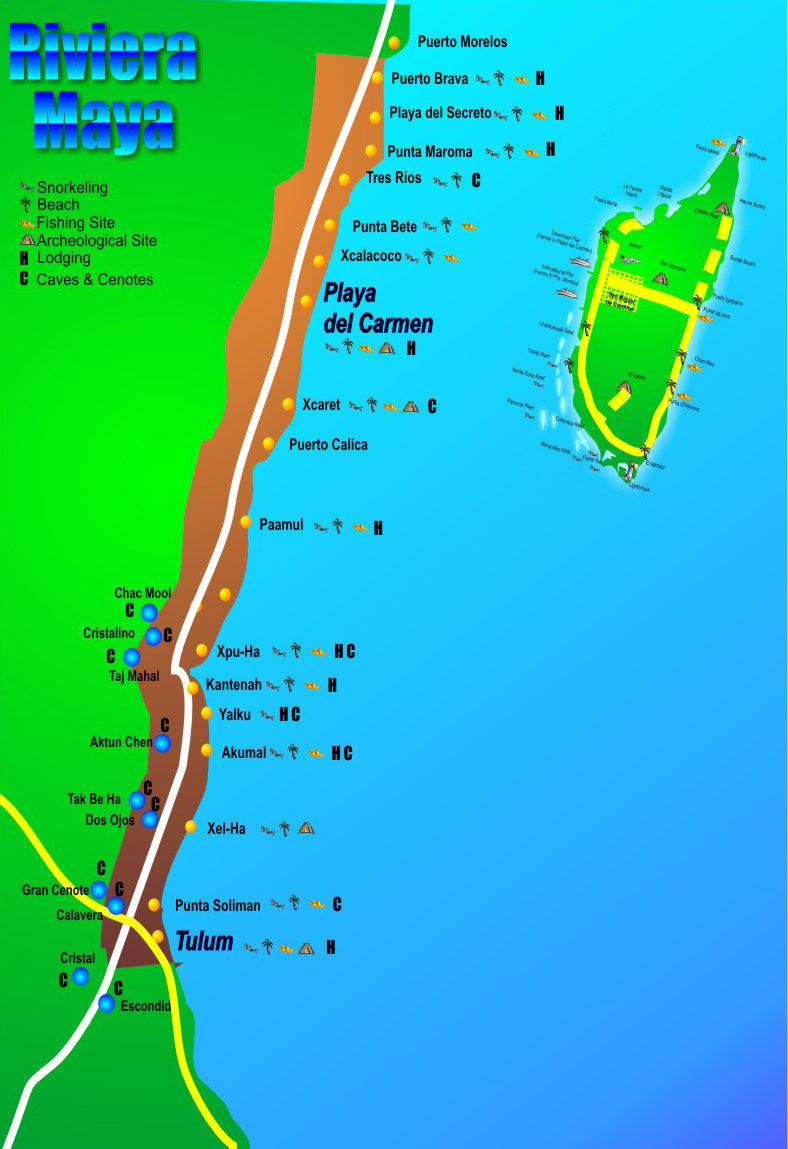 beaches. Luxury travel agencies have been responsable  in increasing luxury villa rentals in the area, but these represent only a small fraction of the total tourist accommodation available.
The major attraction of the  Mayan Riviera are the beaches, and the Mesoamerican Barrier Reef which is inserted in the second largest Barrier Reef  in the World. Begins near Cancun and continues along the whole length of the Riviera Maya until reaching Venezuela.
Popular activities include, diving, snorkeling, jet skiing, swimming in cenotes, swimming with dolphins, zip lines, jungle tours, sailing and kitesurfing. Archaeology is also a major tourist attraction in the area, including the popular archeological sites operated by the National Institute of Archaeology and History.
Tulum on the coast, and Chichen Itza and Coba located some distance inland. The self-appointed ecoparks of Xcaret and Xel-Ha also include some smaller archeological ruins as part of their attractions, but these thematic water parks that are operated by private companies attract the crowds due to the diversity and range of activities to offer, such as swimming with dolphins in captivity.
History
The area known as the  Mayan Riviera was an important commercial and religious center for the ancient Mayans during the post-classical period (1000-1550 AD). Tulum was a Mayan a fortress overlooking the Caribbean Sea, is the most impressive in the area, but there were other important cities such as Xaman-Ha (now Playa del Carmen), Xcaret (known by the Maya as the port of Pole) and Xel-Ha, which was the first European settlement on the peninsula. Further inland is Coba, a city that had 50,000 inhabitants during the Classic Period (300-1000 AD).
The island of Cozumel, with 45 km long and 16 km wide, is located in front of Playa del Carmen. During the post-classical period it was a place of pilgrimage , to pay homage to Ixchel, the goddess of fertility. There are many archaeological sites along the coast; traces of the many places that were created to accommodate the pilgrims.
The  Mayan Riviera was a busy trade route, when the Spaniards arrived in the sixteenth century , despite the large cities, (Chichen Itza and Uxmal, in Yucatán state, and Coba in Quintana Roo), have already been abandoned by unknown reasons. Over the next 300 years under Spanish colonial rule, and lack of proper roads there was no significant population growth in the region, which suffered a long period of neglect.